CMC Telecom with HPE and VMware provide a comprehensive solution for security and IT infrastructure for e-commerce business
Day 25/1, in Hanoi, Workshop "Accelerating digital transformation journey of business" with the participation of the leading telecommunications company CMC Telecom, a global manufacturer HPE technology, VMware shared about the prize legal infrastructure and comprehensive security for business in revolution 4.0.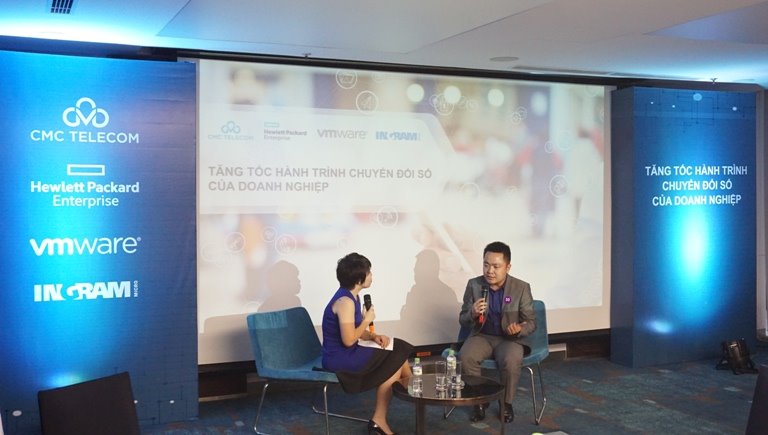 Ms. Duong Phuc – Director of Marketing and customer chat HPE during the Workshop
E-commerce market potential but still face major obstacles in technology
Mr. Tran Trong Tuyen – General Secretary of Association of Electronic Commerce Vietnam (VECOM) said the scale of the EC Vietnam in 2017 fell into the $ 4 billion, is expected to rise by 2025 about 7.5 billion USD. Vietnam is considered as a potential market and attract foreign investment in the field of e-commerce. The proof is in 2017, a series of the world's leading names in e-commerce such as Alibaba, Tencent, JD.com have poured billions of dollars of capital to share ownership of a large e-commerce sites of Vietnam as Lazada, Tiki, Shopee .
But according to Mr. Nguyen Thanh Hung – Chairman VECOM: Since 2016 our country's e-commerce development stage turned quickly. However, the development stage of this continue to have some major obstacles, including confidence of consumers Vasu mounted with suppliers is low, the payment service, online marketing and delivery services not meet the demand. Moreover, many businesses in Vietnam is still slow in adopting IT, using new technology to model operating time 4.0 as building the App, website mobile version, using cloud computing (Cloud Computing ), …
Nielsen market research firm forecasts: when e-commerce development, pricing strategy will no longer secret, no longer a "chip nail" for businesses. Meanwhile, the problem of the enterprise is to apply the technology intensive in e-commerce. There are five main factors will determine the progress of the industrial revolution and the role four times the core to change the face of retailing. That is Broadband, Data Center, Cloud Computing, Big Data (Big Data) and Internet things (IoT).
Comprehensive solutions and IT security infrastructure for e-commerce business
To analyze customer data quickly and efficiently, confidential customer information, as well as against the risk of attacks and data theft, built a communication channel is good and stable, businesses E-commerce need a background professional IT infrastructure platform. To the Workshop, CMC Telecom Company HPE and VMware technology offers the optimal solution for e-commerce businesses to catch up the trend of digital transformation.
CMC Telecom is the telecommunications infrastructure only in Vietnam application service model One – Stop – Shop integrated channels Internet with the traditional value-added service of high quality in order to build the ecosystem of ICT comprehensive e-commerce businesses. CMC Telecom currently provides services Cloud Server applications up to 5 layers of security as required by the customer, such as system against DDOS, system against attacks Flood, Firewall Layer 7 Firewall Layer 3, Layer 4 for each VM and security systems MSS (Managed security Services) from IBM.
In Vietnam, CMC Telecom is the only company to own Data Center PCI DSS standard application (Payment Card Industry Data Security Standard). PCI DSS standards is regarded as a "tool" to help electronic payment systems, e-commerce … succumb to the risk of being attacked. PCI DSS helps businesses limit the vulnerability and risk of information theft; while enhancing the protection of data stored on the card.
Also at Workshop, HPE and VMware presented the infrastructure solutions and its superior technology SAP HANA for software. Success with more than 2000 major corporations around the globe, SAP HANA is a solid foundation for the system of enterprise resource planning (ERP) with premium features and diverse Vietnam. HPE is the only unit architecture, expertise and vision to meet the demand for infrastructure and SAP HANA.
VMware brings Workshop of the package solution based on the technology VSAN (hosting solutions for businesses are integrated nicely in class hypervisor) to help businesses accelerate in moving legacy applications to the new platform, conversion SAP applications to SAP HANA old version, low CAPEX and OPEX more help, technical support process simpler than one step, high resilience, improved usability and much more
Technological revolution 4.0 will promote the role and importance of the telecommunications infrastructure business. Integrated telecom trends for cloud computing technology, software, mobile services not only bring new business model that supports the development of the economy as a whole.
Source:http://ictnews.vn/cntt/cmc-telecom-cung-hpe-va-vmware-cung-cap-giai-phap-toan-dien-ve-ha-tang-va-bao-mat-cntt-cho-doanh-nghiep-thuong-mai-dien-tu-163971.ict
Translated by Google