Not yet released, Tan Thuan Data Center is already on the world DC map
CMC Telecom's most modern Data Center (DC) in Vietnam, DC Tan Thuan, was officially launched in March 2022. However, in December 2021, this DC was "recognized by name" on the global Tier III international standard DC map system by Uptime Institute.
DC Tan Thuan of CMC Telecom is located in the CMC Group's "CMC Creative Space" Data Center Office complex at Tan Thuan Export Processing Zone, Tan Thuan Dong Ward, District 7, Ho Chi Minh City. The complex, which has a total area of 13,133 m2 and a total investment of more than 1,500 billion VND, began construction in December 2019. Tan Thuan Data Center by CMC Telecom will be located in the middle block, with a usable floor area of 10,000m and a scale of 1,200 racks.
Tan Thuan Data Center was designed by B Barcelona Singapore to meet the most stringent standards for a modern DC, including PCI DSS, TVRA, ISO… and, most importantly, the Uptime Tier III certification. Uptime Certificate is the world's standard system for evaluating the quality of a data center, with levels ranging from low to high (Tier I, Tier II, Tier III, Tier IV). Up to this point, Uptime Tier has certified Data Centers in many countries around the world, including Data Centers from well-known companies such as Samsung, Hyundai, Verizon Wireless, and others.
Tier III data centers must be able to maintain uptime of up to 99.982 percent concurrently. To meet this requirement, the Data Center's infrastructure, such as substations, generators, UPS, backbone cables, and so on, must have at least N+1 redundancy, allowing repair and maintenance to be performed without causing damage or interruption, ensuring that the Data Center operates safely and continuously.
To achieve Tier Uptime III certification in data center design, DC Tan Thuan of CMC Telecom was subjected to numerous rigorous evaluations regarding infrastructure design, design process,… All activities that are related CMC Telecom built this data center design in accordance with strict international regulations to ensure that the system operates stably and safely 24 hours a day, seven days a week. Tan Thuan Data Center was added to the world Data Center map by Uptime Institute as soon as the certificate was awarded at https://uptimeinstitute.com/tier-certification/tier-certification-list.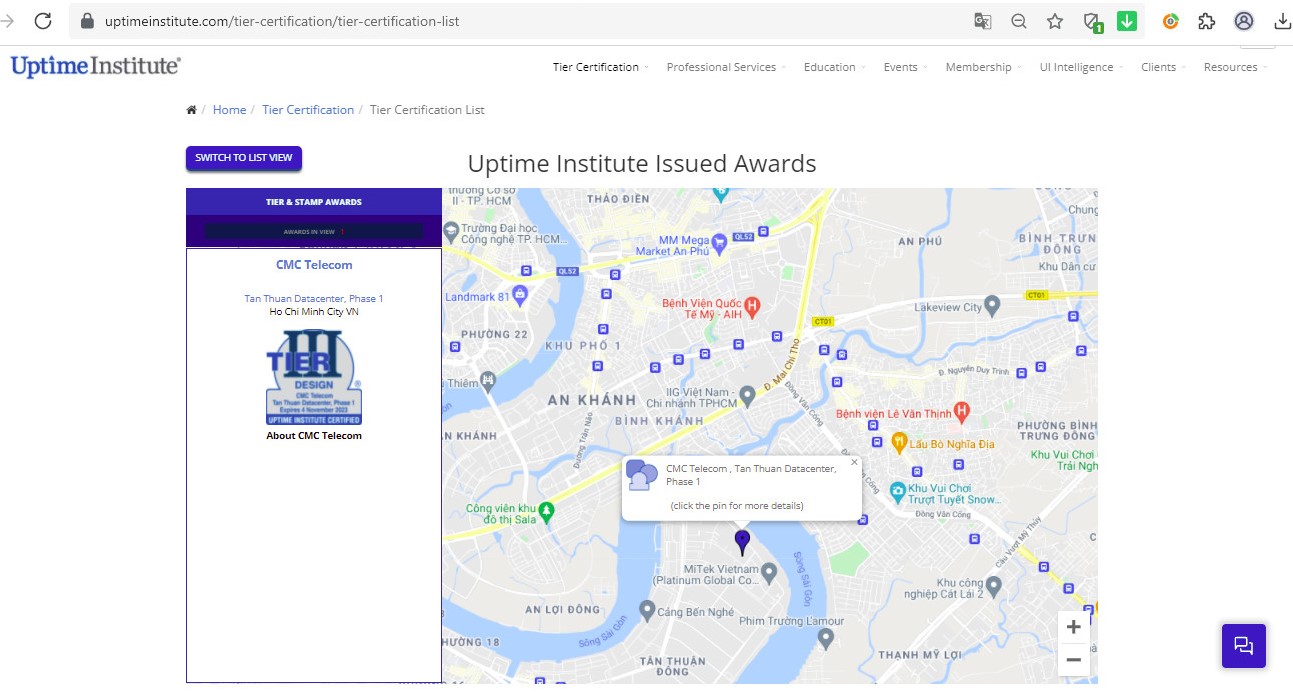 DC Tan Thuan of CMC Telecom has been added to the list of DCs that meet Tier III standards for Uptime Institude design.
With the Uptime Tier III standard, DC Tan Thuan's infrastructure will be optimized to support a wide range of service delivery requirements, allowing businesses to better control costs, reduce risks, and feel confident in investing in the storage device infrastructure layer in the Data Center.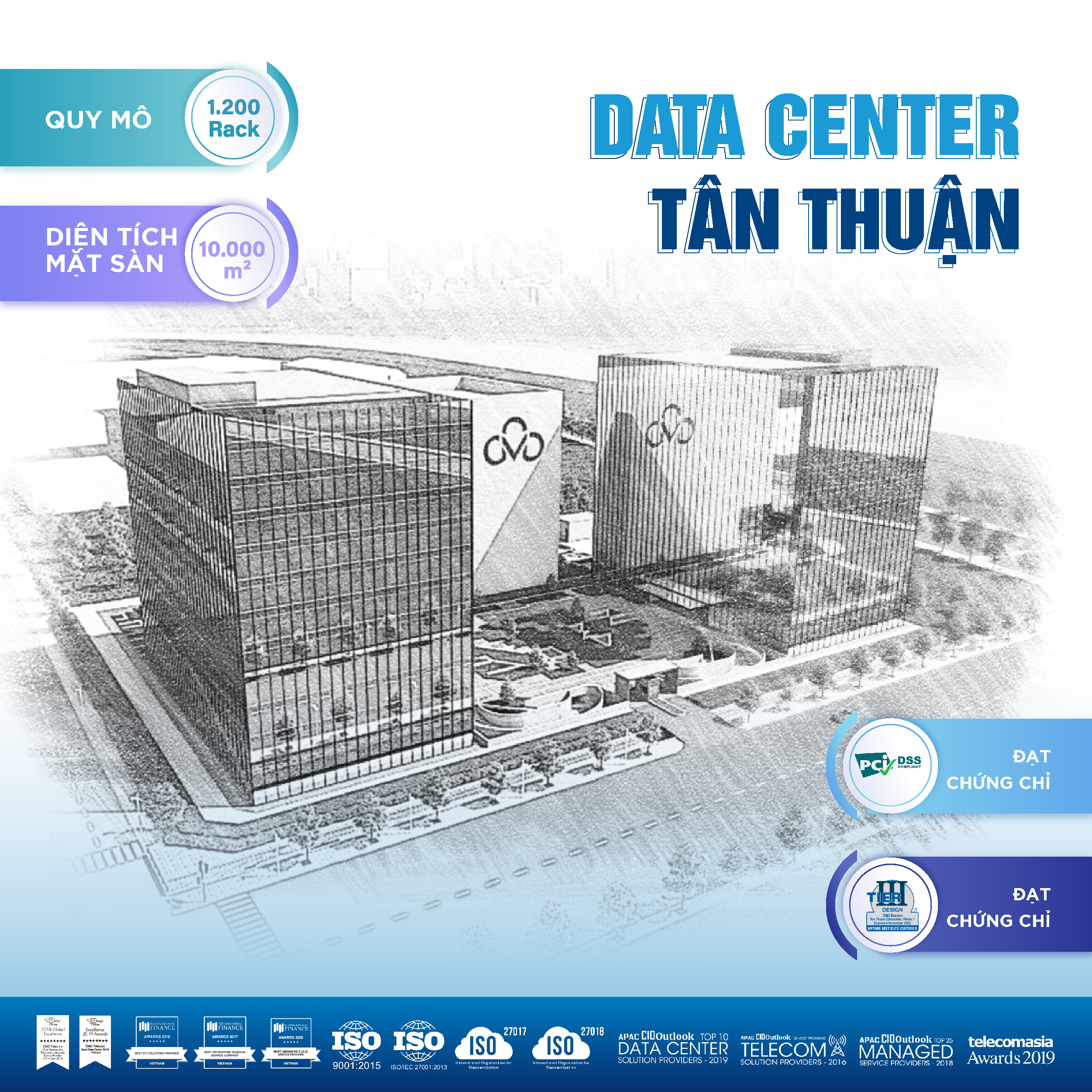 Tan Thuan Data Center has a floor area of 10,000m2 and a rack scale of 1,200
"Deploying DC Tan Thuan according to Uptime Tier III standards from the design stage is CMC Telecom's commitment to perfecting the infrastructure according to international standards. From there, we bring you services with 5-star quality, security, and optimization in response to customers' increasingly "fastidious" demands in the digital age. Businesses have "ordered" more than 30 percent of the racks at Tan Thuan Data Center so far, despite the fact that the DC has not yet been officially launched." said Mr. Dang Tung Son, DCEO/CMO of CMC Telecom.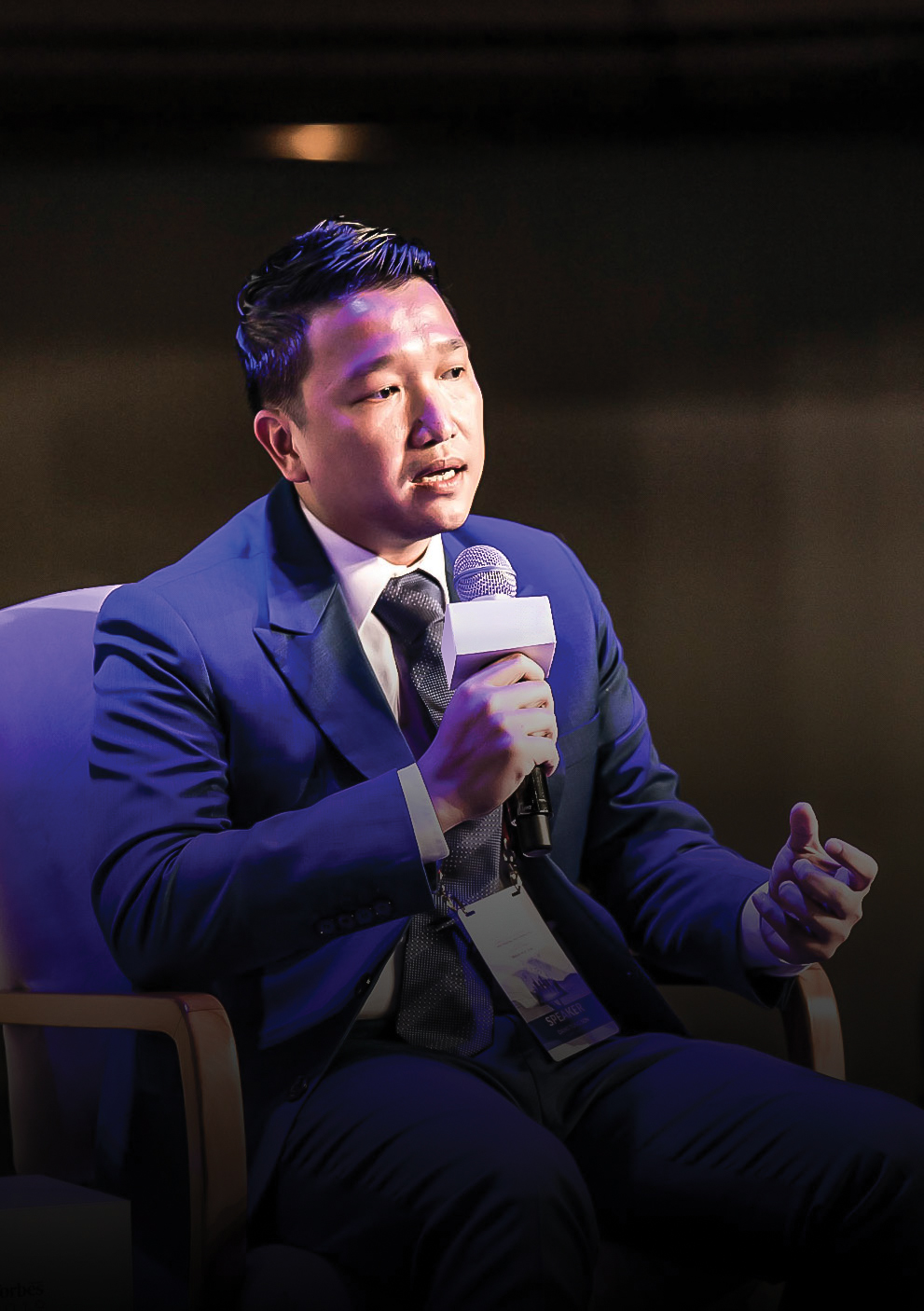 Mr. Dang Tung Son, DCEO/CMO of CMC Telecom
CMC Telecom currently owns three data centers: Data Center CMC Tower (Hanoi), Data Center SHTP (HCMC), and Data Center Tan Thuan (HCMC). CMC Telecom's Data Centers are all certified in accordance with strict international data center standards and are managed by a team of well-trained experts and technicians who hold international certificates such as CDCE, CDCS, CDCP, CDFOM,…
Furthermore, the Cross Vietnam Cable System (directly connected to A-Grid telecommunications network infrastructure, directly connected to 05 international undersea optical cable routes) has been put into steady use as a backbone cable route across Southeast Asia. The November 2017 decision also contributes to the optimization of data retrieval for customers located in CMC Telecom's data centers.
Uptime Institute is an American organization that publishes the world's most prestigious assessment system for data center design, construction, operation, management, and service stability. This unit's "Tier" standard is widely recognized globally and is divided into four levels: Tier 1, Tier II, Tier III, and Tier IV. Tier III is the highest level attained by Vietnamese data centers.
CMC Telecom is a CMC Technology Group company that has been in operation for 28 years. CMC Telecom is also the only Vietnamese representative in the Asia Data Center Alliance – ADCA (Asia Data Center Alliance), which includes the following members: HKCOLO (Hong Kong); T.C.C (Thailand); AIMS (Malaysia); and 1-Net (Singapore). CMC Telecom will provide businesses with professional digital transformation services, as well as the highest reliability and security, as the owner of a global transmission line and an international standard data center.