PLDT Enterprise, CMC Telecom ink deal to better enable APAC market
(L-R) Jeff Mendoza, PLDT Enterprise Asia Pacific Regional Head; Vic Tria, First Vice President of PLDT Enterprise; La Thi Thuy Linh, Deputy Director – International Business Division of CMC Telecom; Nguyen Lan Anh, Carrier Business Manager – International Business Division of CMC Telecom PLDT Enterprise, the b2b arm of the Philippines' largest ICT and digital […]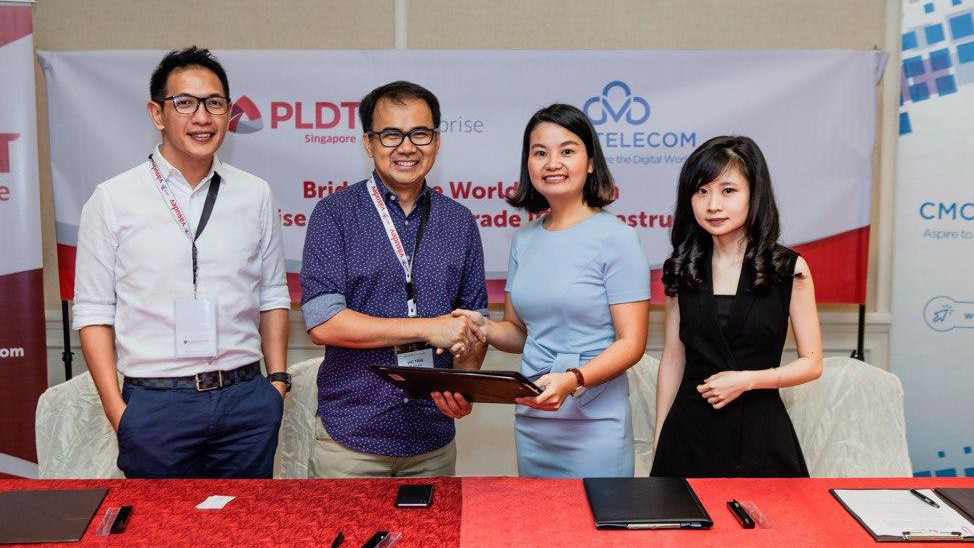 (L-R) Jeff Mendoza, PLDT Enterprise Asia Pacific Regional Head; Vic Tria, First Vice President of PLDT Enterprise; La Thi Thuy Linh, Deputy Director – International Business Division of CMC Telecom; Nguyen Lan Anh, Carrier Business Manager – International Business Division of CMC Telecom
PLDT Enterprise, the b2b arm of the Philippines' largest ICT and digital services provider—through its Asia Pacific operations, joins hands with CMC Telecommunication Infrastructure Corporation (CMC Telecom) – a leading telecommunication service provider in Vietnam to facilitate the two companies' network enhancement, through a strategic agreement for sharing dedicated global connectivity across the Asia-Pacific (APAC) region.
As among major telco operators licensed by the Vietnamese government, CMC Telecom is the first and only ISP with regional strategic investment from foreign shareholder – TIME dotCom, the Top 2 telecommunication company in Malaysia. With the mission of empowering the digital transformation in the region, CMC Telecom as the leading Converged Service Provider is embracing this global trend by offering full suite of world-class Data Center, Multi-Cloud and Cloud Express Solution, Domestic and International connectivity, Internet access and ICT/ Managed services.
With the aim of bringing seamless connectivity to their enterprise clients throughout the Asia Pacific region, CMC Telecom continues to partner with industry-leading providers so as to fortify and accelerate the expansion of its services. Most recently, such endeavor took form in a partnership signing together with PLDT Enterprise.
Linh La, Head of International Business for CMC Telecom said, "We are delighted towards the partnership with PLDT Enterprise to expand their service offerings and provide broader network reach in Vietnam and Southeast Asia region, together serving their multinational clients based on our strong regional network footprint. While, CMC Telecom is now well-positioned to support our enterprise and wholesale customers in their service demand in Philippines, via PLDT's enhanced network and comprehensive service portfolio "
CMC Telecom has maintained that it is focused on providing seamless services at competitive rates so as to allow both domestic and international enterprise customers to grow and expand operations with ease.
Boasting of PLDT's global sub-sea cable capacities, the Philippines' widest fiber optic network of over 300,000 km, as well as an impressive portfolio of 10 data centers, PLDT Enterprise has the advantage of serving CMC Telecom's network and enterprise requirements, which are terminating in the Philippines.
Asia Pacific Regional Head for PLDT Enterprise Jeff Mendoza also shared his excitement on the partnership, saying "As the world continues to transform and become more globalized, the enterprise market leverages more and more on technology and connectivity to be able to keep up with the demands of a digital world."
"We at PLDT Enterprise are proud to partner with CMC so as to enable their constituents with services that will allow them to become even more globally competitive," Mendoza added.
FVP for PLDT Enterprise Vic Tria highlighted how the partnership works in fulfilment of PLDT Enterprise's vision to serve enterprises across the region, saying "Being the leading ICT and digital services provider of the Philippines gives us the obligation to accelerate the digital growth and transformation of local enterprises. Likewise, in embracing our role as a key technological enabler, we also assume the responsibility of providing for the needs of enterprises from neighboring regions."
"Our partners from CMC can be assured of our unwavering commitment to fulfill both parties' customer needs and support their growth," he added.