On October 24, 2019, Asia Pacific's leading prestigious telecommunications and technology magazine – APAC CIOoutlook announced CMC Telecom to receive the Top 10 leading Data Center service providers in Asia – Pacific.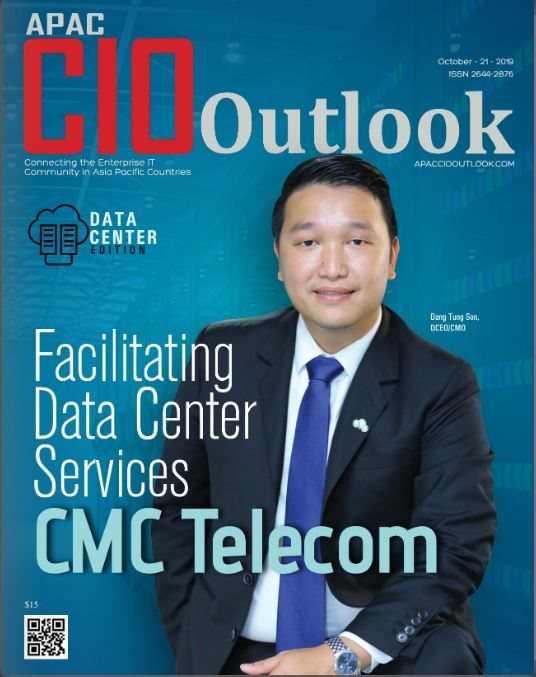 CMC Telecom received the Top 10 leading APAC services provider in APAC region
CMC Telecom is honored to be the only Vietnamese telecommunications enterprise to meet the requirements and criteria to receive this award.
According to CIOoutlook magazine, Data Center plays an important role for the development of Cloud computing, Big Data, Artificial Intelligence and other Internet technologies in the future. Accordingly, the APAC Top 10 Data Center Solution Providers award selects, evaluates and honors leading Data Center service providers based on international certifications of quality of infrastructure and services. In order to be named in the award nominations, CMC Telecom's Data Center has passed the direct evaluation of the approval council and achieved international standards on all criteria. In the issue of October 14, 2019, APAC CIOoutlook has an article about CMC Telecom following the journey to the top 10 leading Data Center service providers in Asia – Pacific.
Data Center of CMC Telecom is in Top 4 Data Centers in Asia
CMC Telecom currently has 3 neutral Data Center centers that meet Tier 3 TIA942, ISO 9001: 2001 and ISO 27001 standards, operated by a highly qualified technical team, achieving international certification. Accordingly, the above standards ensure that Data Center infrastructure is capable of providing services with a stability level of up to 99.99%, operated with international standard information management and security processes. At Data Center Centers, CMC Telecom provides separate servers for each customer with a system of 600 rack-mount cabinets in an area of ​​3000 m2. These servers allow customers to select and upgrade specifications as well as install additional applications to boost Internet connectivity.
Data Center of CMC Telecom is also the first data center in Vietnam to apply PCI DSS security standards. PCI DSS is a mandatory standard to help card issuers protect their data, prevent unauthorized access and will help businesses limit the risk and risk of information theft, especially enhancing Data protection work on the card. In 2019, CMC Telecom's Data Center is nominated as one of the top 4 Data Centers in Asia at the prestigious TelecomAsia Awards 2019.
CMC Cloud connects directly to the Cloud of Google, AWS and Microsoft
Meeting the needs of converting data storage from customers' physical servers to the cloud, CMC Telecom provides the CMC Cloud ecosystem, an open platform that allows users to fully customize usage and administration of translation. Cloud services from CMC and major suppliers in the world such as AWS, Google, Microsoft, IBM …
CMC Telecom is the first and only telecommunications unit in Vietnam to directly connect with Cloud of Google, AWS and Microsoft. Microsoft Azure Express Route, AWS Direct Connect and Google Cloud Interconnect are part of the CMC Telecom Cloud Connection Solution ecosystem.
The biggest difference in the service of CMC Telecom is the direct connection to the Data Center of the world's leading Cloud service providers via private channels, ensuring high speed, low latency and strict security. more stringent than regular connections.
CMC Telecom is also the first unit in Vietnam to own two certificates for Cloud services, namely, Information Security – ISO 27017 and User Authentication Information Security – ISO 27018.
The best provider of telecommunications services for businesses in Vietnam
CMC Telecom is providing services to more than 3000 large enterprises in Vietnam, of which 40% of customers and partners of CMC Telecom are in the Top 100 global brands (Forbes). To support large customers in the FSI (Finance – Banking – Insurance), telecommunications and other multinational companies, CMC Telecom designed new Data Center centers to meet 7-15 kW capacity for a rack network rack.
A customer in the top 4 largest joint stock banks in Vietnam said: "CMC Telecom has relocated our Data Center to CMC Telecom's Data Center in just one month. The company also appointed a specialized project manager to coordinate with related operating personnel such as network management, server management, electrical engineers, etc. to ensure the transition does not occur. any risk "
In 2018, CMC Telecom was voted as "The best provider of telecommunications services for businesses in Vietnam by International Finance Magazine (UK).
Sharing with CIOoutlook about the development strategy of CMC Telecom, Deputy General Director of CMC Telecom, Mr. Dang Tung Son said: "We always strive to develop solutions and services of the highest quality and Meet the specific requirements of each customer. That's the biggest difference that helps us make a difference in the telecommunications market. "
APAC CIOoutlook is a prestigious IT publication dedicated to CIOs, CTOs, senior IT professionals, IT solutions providers, the leading community of telecommunications businesses in the Asia-Pacific region. Every year, CIOoulook conducts reviews and awards of prestigious awards to organizations related to the field of information technology and software solutions in the region. Previously, CMC Telecom was listed in the Top 25 most promising telecommunications enterprises in 2016, and the Top 25 leading service providers in Asia – Pacific in 2018.
The APAC Award Top 10 Data Center Solution Providers continues to affirm the No. 1 position in the field of providing Data Center services of CMC Telecom in Vietnam market.
(Google translate)
Source: https://ictnews.vn/kinh-doanh/doanh-nghiep/cmc-telecom-nhan-giai-top-10-cong-ty-cung-cap-dich-vu-data-center-hang-dau-khu-vuc-apac-191847.ict