On October 4, 2022, CMC Telecom and Uniphore organized a "Roundtable" seminar for Vietnamese businesses on "Automation of conversation with AI solutions" at Sofitel Hotel, Ho Chi Minh City… Today, almost all businesses in Vietnam use call centers. This is a special department to help companies to engage customers and receive the most honest feedback […]
On October 4, 2022, CMC Telecom and Uniphore organized a "Roundtable" seminar for Vietnamese businesses on "Automation of conversation with AI solutions" at Sofitel Hotel, Ho Chi Minh City…
Today, almost all businesses in Vietnam use call centers. This is a special department to help companies to engage customers and receive the most honest feedback on the quality of products and services…In the era of industrial revolution 4.0, Artificial Intelligence/Artificial Intelligence (AI) is no longer new. Many businesses have successfully applied AI, bringing outstanding efficiency compared to old methods, typically the call center solution using A. This solution is gradually breaking down barriers in terms of aspects. Technology helps to bring about high efficiency with reduced costs by up to 70%, which current phone systems cannot do.
At the event, speakers from Uniphore and CMC Telecom provided an overview of Uniphore's AI call center automation solution, C.Open Cloud Computing, as well as challenges for Vietnamese businesses. for the application of solutions to serve company, optimize services and enhance business value.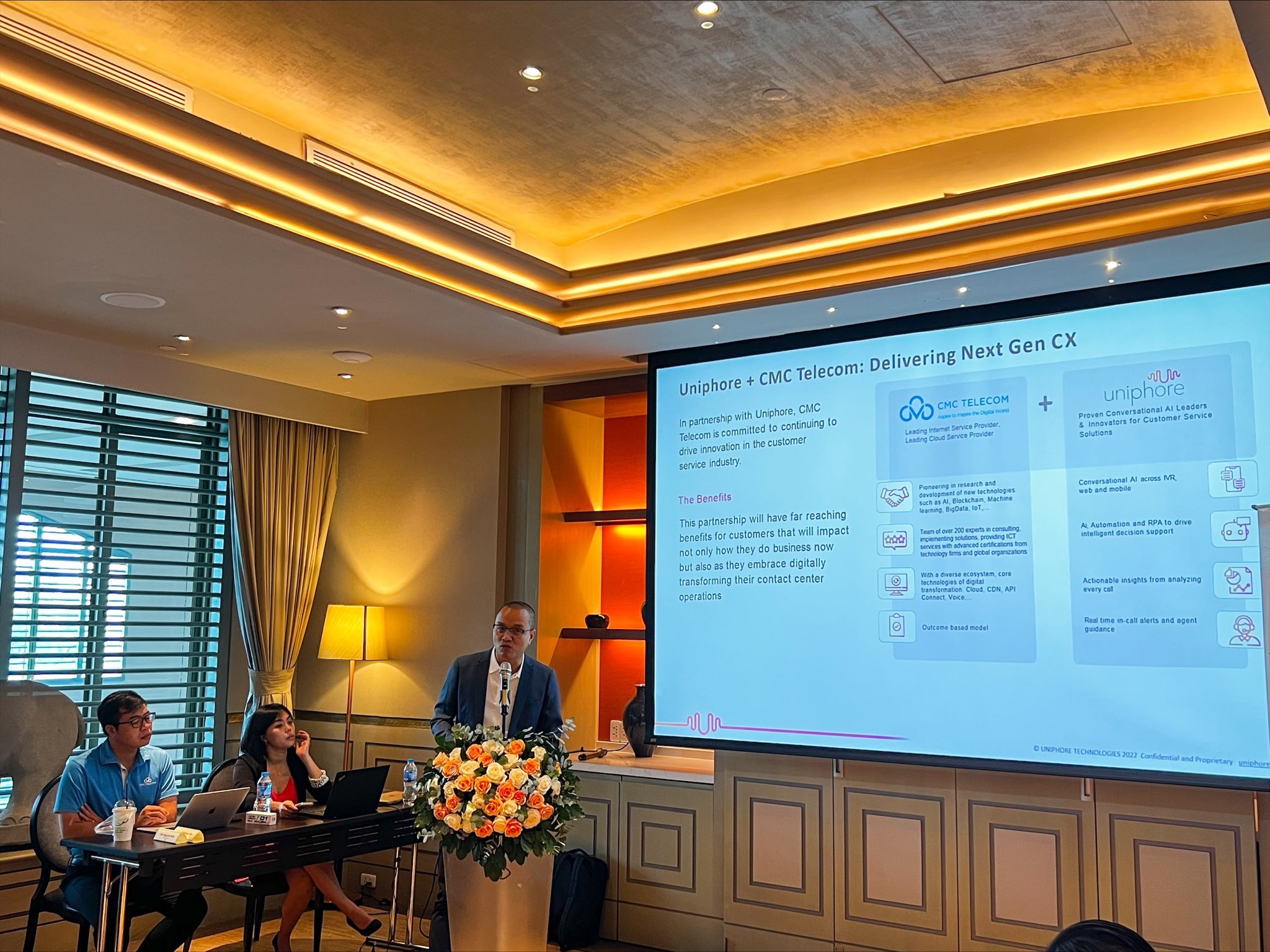 (photo) Mr Thi Nguyen, the Country Sale Head – in Vietnam, shared the solution at the event.
Mr Vijai Shankar, Vice President of Product Marketing & Growth, Uniphore and Ms Veda Menon, Southeast Asia Sales Manager, Uniphore, attended the event. At the event, He shared: "We have been looking to collaborate with CMC Telecom and we are excited to meet CMC's customers and share what we can do together as a partnership. We have customer service goals and customer experience goals. The biggest challenge is that in Vietnam we have a lot of layers in the market. It's about how Uniphore can communicate the values ​​we bring to the Vietnamese market, and Vietnamese companies try to help us to achieve our customer service goals. We do have some existing customer base so it's not like we are brand new to the market, so it's more for us how we open relationships with partners like CMC to bring our solutions to the market and take it to them."
(Video) Mr Vijai Shankar, Vice President of Product Marketing & Growth, at Uniphore shared about the event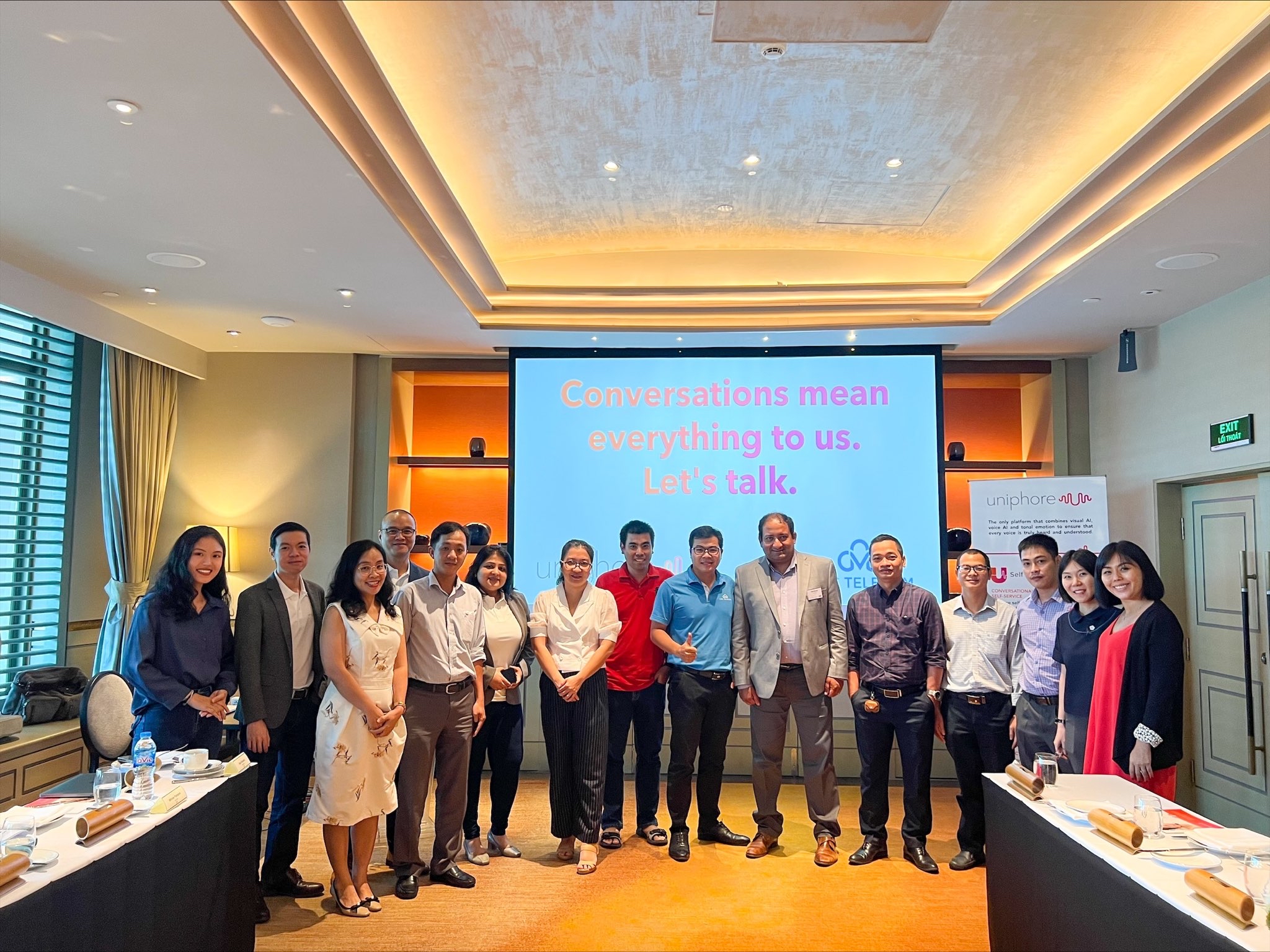 (Photo) Attendees take souvenir photos with CMC Experts and Uniphore Team
Uniphore – A solution for automating VoiP  using A.I
Uniphore is a global company that provides conversational automation solutions. Uniphore was founded in 2008 at the Indian Institute of Technology Madras. So far, Uniphore has two headquarters in the US and India and offices in Spain, Israel, Japan, and Singapore.
Uniphore focuses on building a solution to automate conversations through the phone system with AI to optimize conversations effectively to improve customer experience, optimize services and enhance value. With Uniphore, businesses can be assured of convenience and ease of use because It is a low code/no code platform (software development programs only require very little source code or no need to write code. source) comprehensive and efficient, combining conversational AI, workflow automation, and robotic process automation (RPA) with user-friendly enterprise experiences in a single integrated platform to transform and transform every aspect of customer experience in every Industry.
The Covid-19 pandemic has forced businesses and organizations to immediately innovate and modernize their customer care and approach processes with advanced technologies. The key to transformation lies in U-Analyze solutions, a system that listens directly to conversations and analyzes customers' emotions, needs, motivations, and problems using AI technology, Human Support operator when consulting customers with U-Assist. From a business perspective, Callbot automatically responds by voice to directly support customers when contacting the enterprise's phone system without the operator's help via U-Self Serve, identifying and authenticating the identity. Calculate employees and customers by voice-over voice calls or call recordings with U-Trust.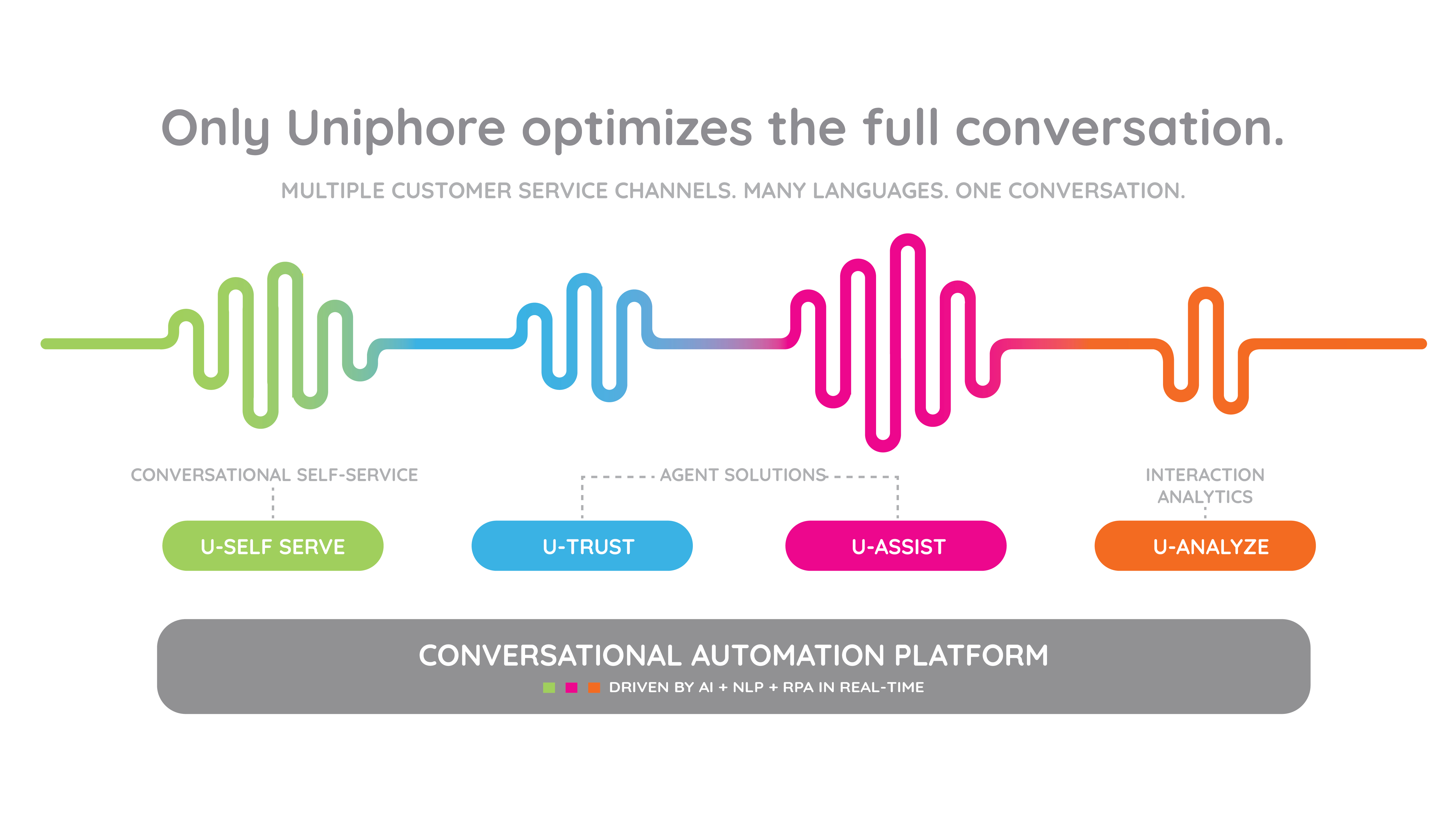 (photo) Four leading solutions of Uniphore automating enterprise call centers.
"Automation phone system" right with CMC Telecom – Uniphore strategic partner in Vietnam
With the philosophy of profoundly understanding customers and accompanying businesses, on C.OPEN, SMEs are consulted on business strategies for promoting revenue growth and customers, optimizing operation management and spending costs and creating and innovating business models. In addition to the consulting function and insight into digital transformation, the ecosystem of C.OPEN is the products of CMC Telecom with significant technology partners worldwide, such as Microsoft, Google, Amazon, and Make products. In Vietnam, specifically for the Vietnamese market.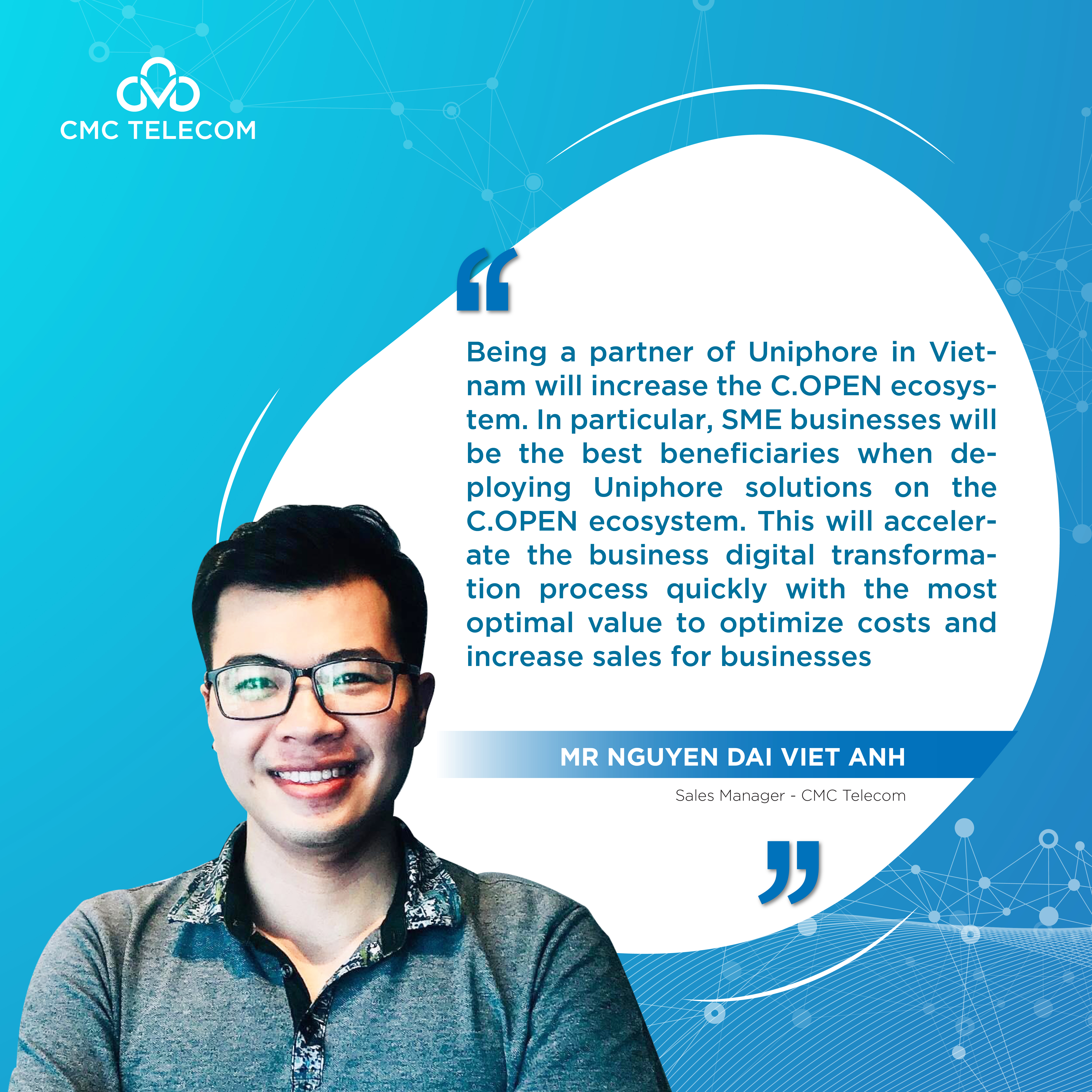 Mr Nguyen Dai Viet Anh,Sales Manager, CMC Telecom, shared
Enterprises only need "1 Click" and take 5 minutes to work with C.OPEN to implement digital transformation strategy through digital transformation product and service groups in corporate governance: human resource management, technology management, management delivery management, sales management, office administration, promoting revenue growth and optimizing management and operations. To provide helpful advice and suggestions for each business's needs, C.OPEN owns a team of leading experts from CMC Telecom with extensive knowledge and expertise in information technology and finance.
In addition, the implementation roadmap of CMC Telecom's "Automation phone system" solution by Uniphore standards, from consulting to installation and deployment, will help businesses build a plan of "Automatic conversion" with My Uniphore is the most suitable and always has 24/7 support from a team of experts.
C.OPEN provides in-depth advice for crucial business areas such as Retail, Logistics, Consumer Goods, Finance, Healthcare, and Real Estate… Through success stories of businesses, the Industry has applied digital transformation. In addition to consulting function and insight into digital transformation, C.OPEN's ecosystem is CMC Telecom's products with significant technology partners worldwide, such as Microsoft, Google, Amazon, and Make in Vietnam products specifically for the Vietnamese market.
C.OPEN is an ecosystem researched, developed and built by CMC Telecom with leading partners in Vietnam.